Lolly Hampers Delivered to your Door!
Our lolly hamper in our iconic delivery boxes are full with nostalgic sweets from your childhood. Perfect for a Birthday Gift.
CHOOSE FROM ONE OF OUR LOLLY HAMPERS
Send a delicious lolly box delivery or chocolate box delivery - delivered FREE Australia wide! Express next day* delivery available.

Alternatively send a custom pick and mix jar, or one of our expertly curated mixed jars.

No more socks or chutney and crackers. Send sweet smiles with a delicious selection of lolly hampers, delivered FREE to their door!
Retro Lolly Box
$56.00
Chocolate Bar Lolly Box
$49.00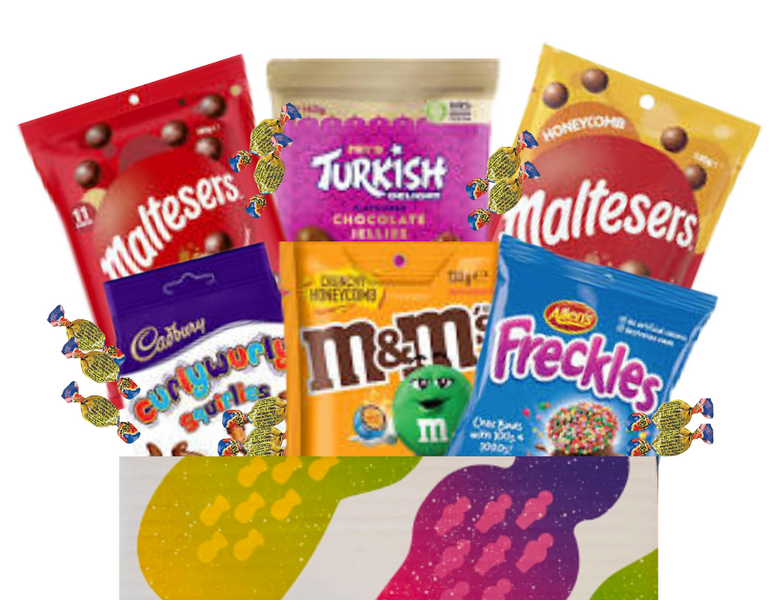 Mixed Favourites Chocolate Lolly Box
$65.00
Sweets 'n Sours Lolly Box
$61.00
Looking to surprise them with a fun lolly box or decadent chocolate in a box?

Look no further, our Lolly Gift Boxes, Chocolate Gift Boxes and Pick and Mix Lolly Jars are the ultimate treat boxes for the chocoholics and lolly maniacs among us.

Whether you're looking for a large box of chocolates for the whole family or a small lolly gift hamper to show them you care, we've got you covered.
Choose from a wide variety of their favourite lollies and chocolates, from Maltesers, Sour Worms, Milk Bottles, Red Frogs, Bananas and more!
Choose from over 50 varieties of lollies and chocolate or let us help you choose with one of our 5 flavour combinations.
LOLLY HAMPER DELIVERY AUSTRALIA WIDE
No matter where you are in Australia... from the city of Melbourne, the outback or over the east coast in Perth, our couriers deliver our retro lolly hampers to any location from our head office in Brisbane.

With uncompromising quality, guaranteed to deliver a smile, you don't need to settle for a "figs and crackers" hamper when you can have a delicious Lolly Hamper Delivered to your door.

All orders come with FREE SHIPPING Australia wide!
Express next-day delivery for all locations* and same day gift delivery in Brisbane.

There's no more mistaking your gift delivery for stationery, our Lolly Mail Gifts are delivered in our iconic, bright and fun shipping boxes, so your recipient will be smiling from ear to ear with excitement.


GET STARTED